Joe Basil
Moderator/Consultant/Instructor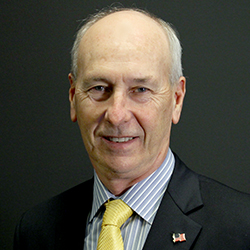 After having been an NCM 20 Group member for ten years, Joe now serves his former peers through his automotive consulting position at NCM. With 40 years of retail automotive and general business experience, Joe began his career at age 14 progressing through a variety of positions in his father's dealership in Buffalo, New York, eventually becoming the used car manager for their Chevrolet store.
At 26, Joe became the owner-operator of an Oldsmobile dealership. As the oldest of seven, he has bought and sold three dealerships of his own, and ventured into several non-automotive businesses, including business consulting and training. During his career with the Basil Group, Joe assisted in the purchase, sale, and start-up of over 24 dealership transactions and five non-automotive businesses.
Joe is a graduate of Northwood University with a degree in automotive marketing and holds a Bachelor of Science degree in Marketing from Canisius College. Joe is a graduate of the Chevrolet Management School and has completed formal training in family business advising and entrepreneurial leadership.
Expertise
Net profit performance turnaround and improvement
Evaluating the best people for the right positions
Organizational development, structure, and team performance improvement
Identifying profit opportunities within your existing business volume
Managing assets by ROI (return on investment)
Business and strategic plan development
Implementation of execution planning
Client profitability is a measure of Joe's success.
Joe has worked with the Capital Group of North Carolina on their used-car inventory management over a two-year time period. The group's excessive used-car inventory year-end write off and high days supply were problematic to say the least. Joe worked to educate the group's fixed operations managers on the average daily holding cost of their used-cars and the impact this has on gross profit, aging, inventory risk, inventory value, and internal gross profit. He also taught them about inventory write-down, total used-car monthly gross profit, and the value of an increased inventory turn rate on their total gross profit. At the beginning the group averaged $26,000,000 in used-car inventory which represented a 90-day plus days supply. The year-end inventory write-down averaged approximately $1,000,000 each year. The group increased their turn rate to drive the days supply down to a 60-day, days supply, eliminating the million dollar year-end write-off and at the same time maintaining the $26,000,000 inventory which increased retail availability. The increased turn rate drove more internal gross through the shop, thereby improving mechanical department net.
Contact Information
800-756-2620
4717 Grand Ave. #500
Kansas City, MO 64112